We are so pleased to announce that Cloud9 has been recognized as the 2016 Best Sell-Side Trading Communication System at the WatersTechnology Sell-Side Technology Awards. After an eventful and productive 18 months working on the development of a secure, high-performance communication solution for the institutional trading community, it is a great honor to be distinguished as a leader in trader voice.
Nominees for the award were asked to prove that they offered a simple, user-friendly solution with high-availability, support for simultaneous incoming and outbound calls, and voice recording capability.
We were happy to share with them that Cloud9 does all of this, and more.
Cloud9 differentiates itself in the field by providing an easy-to-use solution that is cost-effective, offers high-fidelity audio, end-to-end security, and a community of over 350 firms that enables users to easily connect with counterparties.
In addition, Cloud9 is fully compliant with the stringent regulations of the financial services industry, especially in regards to the 2018 regulatory mandates of MiFID II. While many companies are scrambling to define and build out solutions to these mandates, Cloud9 was the first to implement the requirements of call recording and retention.
Since the inception of this company, we have been confident that we would revolutionize the way that financial services thought about communication, and this distinction only validates that we are offering a not only innovative, but exceptional, product.
In fact, if you asked any of the hard-working team here at Cloud9 if they were surprised that we received this award, you would likely hear only one response – "No, not at all."
Our Chief Product Officer and Co-Founder, Steve Kammerer accepted the award at the ceremony, which took place April 21 at the New York Marriot Marquis.
"Our team has worked tirelessly over the past two years to develop a secure, high-performance product," said Kammerer. "So it really is a great honor to get this kind of recognition from the industry and be distinguished as a leader in trader voice communications."
Steve Kammerer (Co-Founder and Chief Product Officer) accepting the Best Sell-Side Trading Communication System award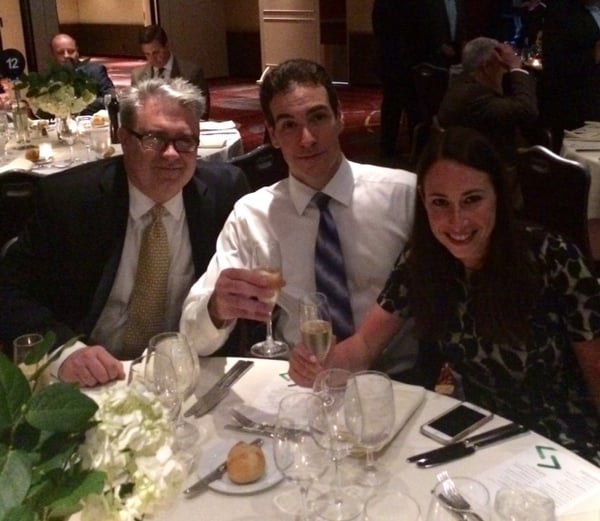 Steve Kammerer, Andy Pappas (Chief Architect), and Dana Starr (VP of Professional Services) having a great time at the awards ceremony!
We're winners!! Dana Starr, Andy Pappas, Steve Kammerer, and Laura Sankowich (VP of Marketing)
We thank the judging committee of the Sell-Side Technology Awards for recognizing our achievements, and we look forward to debuting more exciting features and products over the next year.